Strategy Case Studies
"Chris is an online creative force, thought-provoking and entertaining at the same time. His unique viewpoint and perspective enhances all that he comes into contact with."
Christopher DeWan is a creative strategist who has spent the past decade working with clients to create narrative storytelling solutions. The work doesn't always fit neatly into a single job description: sometimes it's writing brand books and sometimes it's writing computer code—but always, it leverages technical know-how, an empathic understanding of user experience, and a lot of narrative and copywriting chops.

Christopher has worked with numerous branding, creative, and digital agencies, including BOND, Davis Elen, Digital Pulp, Heavenspot, iFactory, Liquid Agency, Ludomade, Scarlet Heifer, and Sideways.
See a resume of web & interactive experience >
Case Studies:
Green Room
Agency: BOND
Client: A24 Films

Creation of various social media activations for Jeremy Saulnier's 2016 film Green Room, starring Patrick Stewart.
Baskets
Agency: Ludomade
Client: FX Networks

Creation of social media content to support the launch of FX's TV series Baskets, produced by Louis CK and starring Zach Galifianakis.
Star Trek Jordan
Agency: Heavenspot
Client: Paramount Pictures / Bad Robot / King Abdullah bin Al-Hussein of Jordan

King Abdullah bin al-Hussein is a backer of The Red Sea Astrarium, a new resort in Aqaba, Jordan. Central to the resort is a theme-park based on Star Trek. Our job was to design and build a series of competititve kiosk games as part of a fictional "Starfleet Academy," where visitors to the park could test their potential as future recruits of Starfleet. Another game required a timeline that integrated real and invented/future Middle Eastern history with the events of the Star Trek canon.
SquareTrade / The Pitch
Agency: Heavenspot
Client: SquareTrade / AMC's The Pitch

In the role of Senior Copywriter at Heavenspot, I participated in an intense, week-long pitch for a client called SquareTrade. The catch: while we worked on our challenging deadline, we were followed by camera crews for what became an episode of AMC's documentary TV show, The Pitch.

The show was sort of silly, but the concept we pitched was solid: an integrated campaign to get users to share their stories during their iPhone-replacement claims process, called "Get Back to Happiness."
• Learn more about the "SquareTrade" episode from The Pitch
Mynd, the Smart Calendar App for iOS
Agency: Liquid Agency
Client: Alminder

A startup called Alminder had developed a proof-of-concept version of a "smart calendar" app for iOS, and engaged Liquid Agency to help with both brand identity and user experience strategies. The two went closely hand-in-hand: what are the real promises of a "smart calendar," and how can we deliver on those promises? The resulting app (now live) shows drive times, makes recommendations based on learned behaviors, and offers a day view like none we'd seen before.

Contraband Training Ground
Agency: Heavenspot
Client: Universal Pictures

One of many, many small-scale social games built for Universal Pictures, this game was modeled after Choose Your Own Adventure books and built in an almost comic book style. Key to the game: your team of Facebook friends affects your odds of pulling off a heist, and you also have the option of framing them to try to increase your cut.

Banter.it
Agency: Scarlet Heifer
Client: Mark Neiderfer and Gene Shkilko

When private investors Mark Neiderfer and Gene Shkilko got frustrated at the directionless bickering that makes up most of online discourse, they decided to do something about it. They contracted Scarlet Heifer and gave them a goal: create a web platform that's conducive to real disucssions, resulting in actual, actionable solutions.

Starting from nothing but this idea, we brainstormed and then designed a platform to facilitate online problem-solving, then seeded the site with conversations to help get things started. My role was to participate in the discussions from the beginning and to steer our thinking till we arrived at a set of wireframes we could pass off to developers.

Sotheby's Institute of Art
Agency: Lucid Marketing Group with SnapDragon Consultants
Client: Sotheby's Institute of Art
When Sotheby's Institute of Art decided to launch a program of online courses, they faced a major image problem: no one knew that Sotheby's had an institute of art. They hired Lucid Marketing Group and SnapDragon Consultants to help them build awareness for the new program. As the lead digital strategist, my job involved designing a social media content plan, designing several contests and MeetUp partnerships, and training the Sotheby's staff in the use of the various platforms. I spent a month blogging about art before turning the social media keys back to the staff.

Researching Lost Children
Agency: Heavenspot
Client: Universal Pictures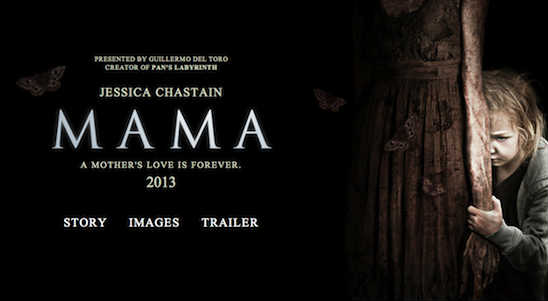 This Tumblr purports to be the research of an eminent child psychologist in advance of a book release, on the subject of feral children. In reality, it was a second-screen experience for the Guillermo del Toro-produced Mama. The story unfolds over 60+ posts and begins to overlap more and more with the story from the film.
• Visit "Researching Lost Children."
Emerson College
Agency: Digital Pulp

When Emerson College wanted a website redesign, they weren't only looking to integrate legacy software and migrate 1000+ webpages into a new architecture. They also wanted a site that showed off their brand: a school where creative students learn skills that allow them to work.In addition to redesigning and migrating their site, we gave them "Emerson Live."
• Visit Emerson.edu.
State Street Global Markets
Agency: Digital Pulp
Client: State Street
State Street Corporation is one of the largest financial services companies in the world and manages over $30 trillion dollars in assets. Its Global Markets divison provides proprietary research to traders looking to invest in equities, fixed income, foreign currency, and derivatives. They needed a site that was achitected to deliver useful and relevant research to users, with searchable archives and complex cross-referencing.
The Disease Control Priorities Project (DCP2)
Agency: iFactory
Client: The World Bank / The Bill and Melinda Gates Foundation
DCP2 is an invaluable resource to health policy-makers around the world, highlighting cost-effective interventions based on careful analysis of health systems, the costs of disease burden, treatment, and prevention for a comprehensive range of diseases and conditions. The problems it is meant to solve are real and enormous—and it was our job to find the taxonomies that would make the content appropriately searchable and usable.
• Visit DCP2.